OMEGA 3 HIGHLIGHTS
Cardiovascular support*
Support brain function*
Assist with joint support*
Improved immune system*
As a dietary supplement, take one (1) softgel capsule, 2-3 times daily with meals.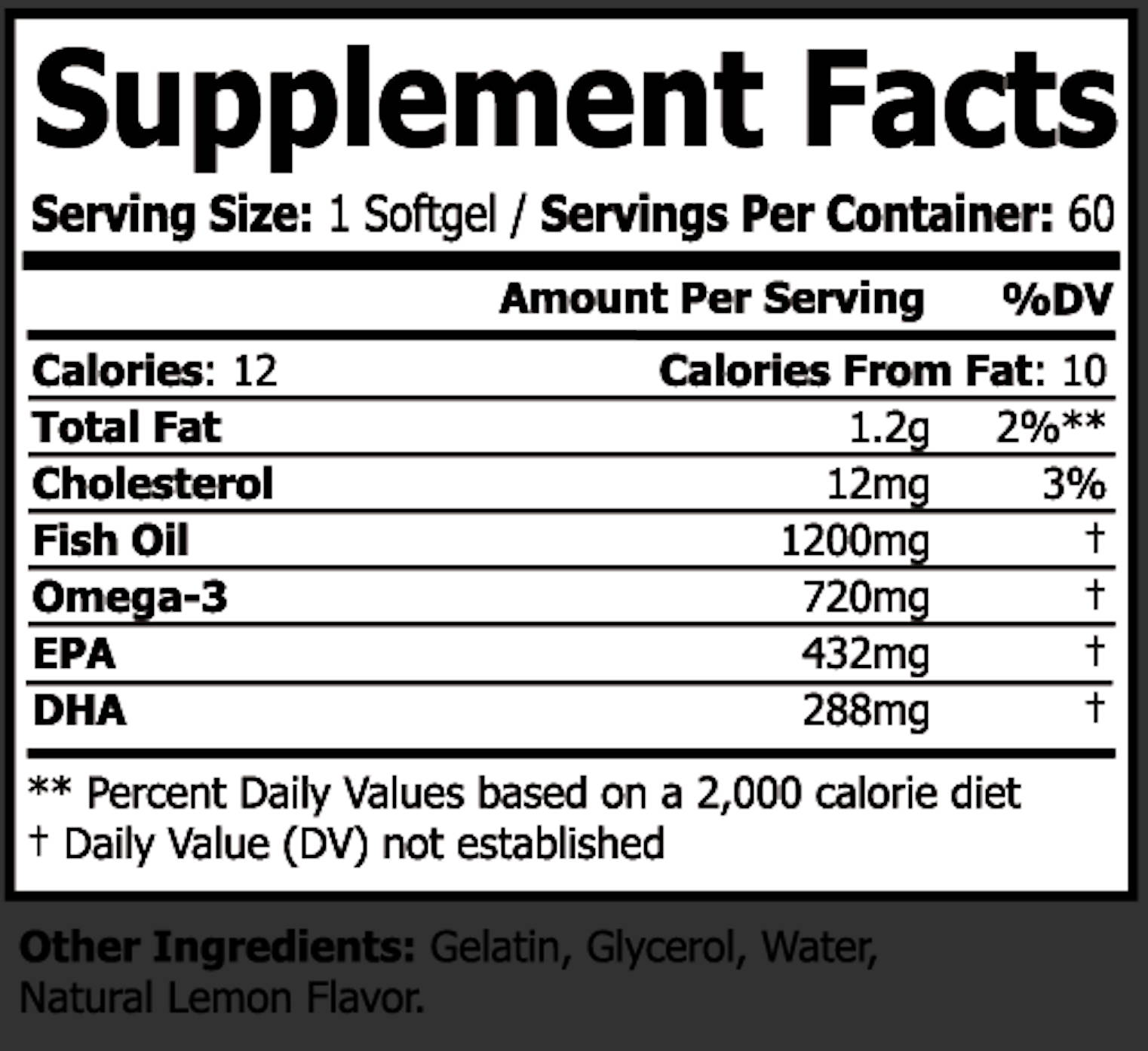 For use by healthy adults only, not recommended for persons under the age of 18. Do not use if you are pregnant or nursing. Individuals should not consume other caffeinated products in conjunction with this product. Seek advice from a healthcare professional before taking if you have any preexisting medical condition to ensure it is safe to take this product. In case of accidental overdose, contact a poison control center immediately. Avoid alcohol and prescription stimulants while taking this product. Exceeding recommended serving will not improve results and may cause serious adverse health effects. Discontinue use and contact a licensed healthcare professional immediately if you experience an unusually rapid heartbeat, dizziness, severe headache, or shortness of breath. KEEP OUT OF THE REACH OF CHILDREN.
60 softgel capsules per container.
---
OMEGA 3 (60 Servings) There has been an abundant amount of research and studies conducted on the benefits of fatty acids we get from fish oil and how it can positively impact our health. These are essential for improving:
Support your cardiovascular system.*
Support overall brain function.*
Assist with Joint support.*
Immune System support.
We source all natural and clean forms of fatty acids for our fish oil. We coat it with lemon flavoring to eliminate any fishy aftertaste.
---
WHAT IS FISH OIL COMPRISED OF?
Fish Oil is comprised of: EPA (Eicosapentaenoic acid), DHA (Docosahexaenoic acid), and OMEGA 3 fatty acids. They are all natural and a good source of healthy fats.
I HEARD IT MAKES YOUR BREATH STINK.
We flavor our Omega formula with Lemon flavor to imrpove after taste and eliminate fishy burps that some people experience.*
WHEN SHOULD I TAKE FISH OIL?
You should take fish oil 2-3 times a day with food. I would recommend stacking it with CLAs to utilize the fatty acids as sources of energy.