31666
Charlie Mike (Intra-Workout)
Regular price
$39.99
FREE Shipping over $100
/
---
MORE ENDURANCE, MORE POWER, MORE HYDRATION . . .


Increase Lean Muscle Mass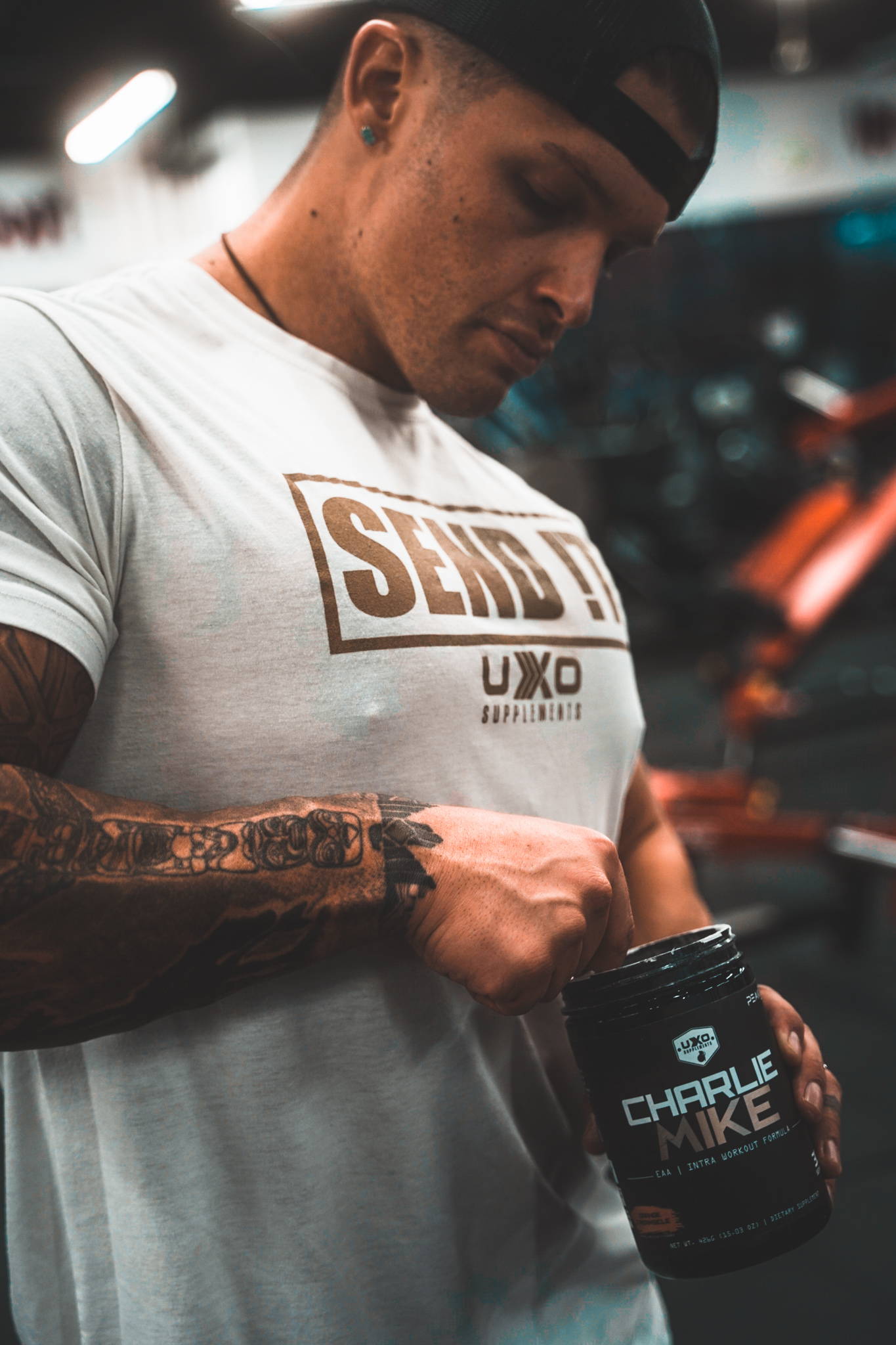 SPARK THE MUSCLE BUILDING PROCESS INTRA WORKOUT . . .
Our new advanced intra-workout formula, CHARLIE MIKE is here!! What does the Name mean?? "CHARLIE MIKE" is a term used in the military meaning "Continue Mission". This formula will elevate your performance to hit new PRs. Feel energized through the workout and ready to conquer more with the hydration benefits of Taurine and Coconut water. Stack on more lean muscle mass. Avoid that drained feeling after sweating out important minerals and nutrients.
This formula contains all 9 of your Essential amino acids including 5g of BCAAs. These aminos increase protein synthesis and nitrogen retention, both essential for building lean muscle mass.* The addition of Coconut water, Taurine, and Pink Himalayan Salt increase hydration and nutrient transport to muscles when they need it the most.*
Finally, we took this formula to another level with the addition of Peak O2®. This organic-certified combination of six adaptogenic mushrooms (grown in the U.S.) allows users to adapt to and overcome physical and mental stress . . . In turn, increasing power, endurance, performance, and wellness.
They are the building blocks of protein synthesis and muscle production.* BC

AAs are widely used to alleviate fatigue, improve athletic performance and stimulate muscle recovery after exercise.* A lot of studies show that having a ratio of 2:1:1 between Leucine, Isoleucine, and Valine is the optimal amount for building muscle and reducing fatigue.*
All nine essential amino acids perform varied roles in your body. They're involved in important processes such as tissue growth, energy production, immune function, and nutrient absorption.

*

Supplementing with EAAs could reduce muscle soreness after exercise.
Pink Himalayan salt provides your body with essential nutrients and replenishing electrolytes that you lose through sweat.* This is important for optimal performance and muscle hydration.
Hydrating with coconut water during exercise can help you feel more energy & increase your athletic performance.*
L-Taurine at effective dose of 1g. Promotes cardiovascular health, insulin sensitivity, electrolyte balance, can volumize muscles by drawing more fluid to them.*
Peak O2

®

promotes oxygen consumption during exercise
Peak O2

®

reduces lactate while supporting ATP production for increased energy.*
Peak O2

®

increases time til fatigue leading (more endurance)*
Learn more about Peak O2® here.
As we work out our body begins to face metabolic fatigue. We begin to deplete our intra-cellular sources of energy. As those deplete, our body lacks the energy necessary to complete the executed exercise resulting in muscle failure. Good news!! EAAs with the help of Peak O2® can help improve oxygen utilization and work capacity while decreasing lactate, helping athletes train longer and harder.
Drinking enough water may seem like an easy task, but is it? Hydration can impact virtually every aspect of performance in the gym and in endurance sports.*
Staying hydrated increases energy, improves movement, recovery, agility, and mental clarity. Keeping the muscles hydrated can improve physical performance and reduce the risk of injuries.*
hile drinking enough water may seem like a simple action, it impacts virtually every aspect of sports performance. Almost every measurement of performance (aerobic endurance, strength, power, speed, agility, and reaction time) decrease with as little as 2% dehydration.*
Mix 14.2g (1 scoop) in 8-12 fl ounces of cold water. It will take a few minutes for all the powder to dissolve into the beverage. Best taken Intra/post-workout or between meals.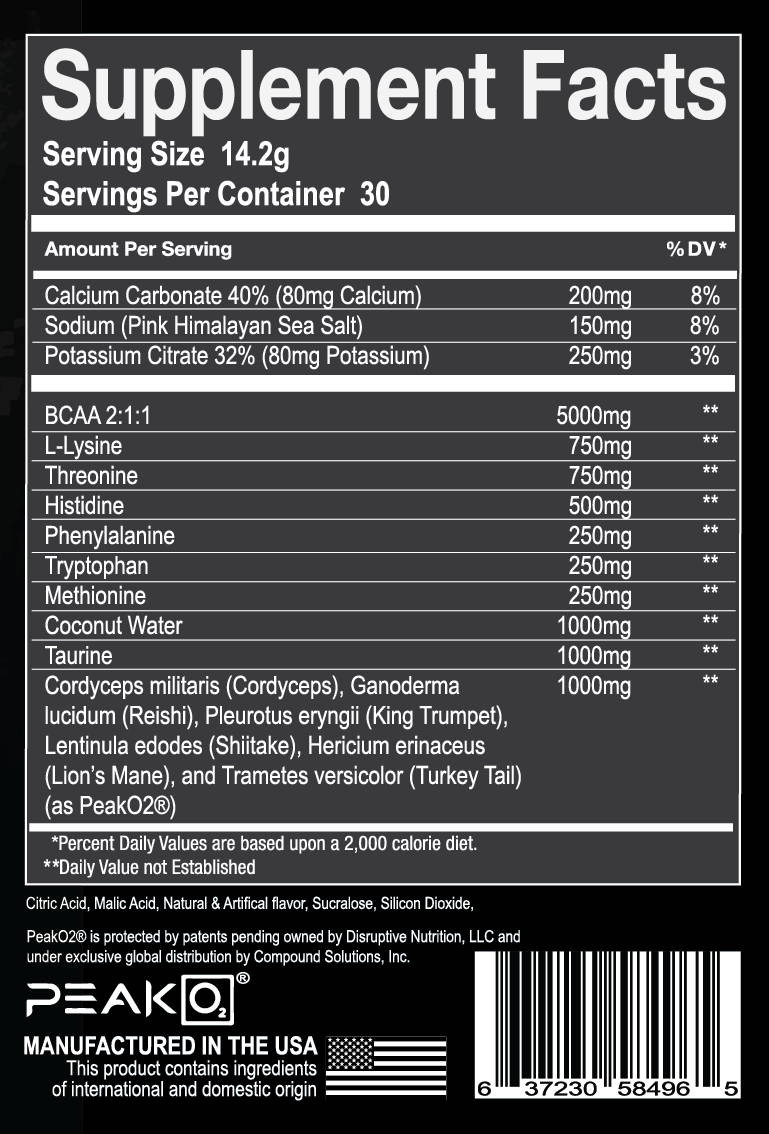 WARNING: Consult with a physician prior to use if you have any medical conditions. Do not use if pregnant or lactating.
30 servings at 14.2g scoop.
Amino acids are organic compounds that combine to form proteins. Essential amino acids cannot be made by the body. As a result, they must come from food. The 9 essential amino acids are: histidine, isoleucine, leucine, lysine, methionine, phenylalanine, threonine, tryptophan, and valine. Amino acids and proteins are the building blocks of life. When proteins are digested or broken down, amino acids are left. The human body uses amino acids to make proteins to help the body:
Break down food
Grow
Repair body tissue
Perform many other body functions
Because EAAs are so important to muscle tissue, and because they help maintain blood sugar levels, it's important to get enough to support your workouts. Consuming a carbohydrate, protein, and amino acid beverage during and after training can induce an insulin response, which helps transport Aminos into cells. Recent studies have shown that Essential amino acids are more efficient at building lean muscle mass than just taking a BCAA (Branch Chain Amino) by itself.
This organic-certified combination of six adaptogenic mushrooms (grown in the U.S.) allows users to adapt to and overcome physical and mental stress . . . In turn, increasing power, endurance, performance, and wellness.
PeakO2® mushrooms are grown on organic oats in the USA
Non-allergenic
Vegan
Gluten-free
Non-GMO
Best if taken intra workout for improved endurance, energy, and performance.
WHAT IF I AM SENSITIVE TO STIMULANTS?
CHARLIE MIKE is a stim free product. It is safe and effective to use. All ingredients have research or studies conducted on them and their affects on the human body. You can feel safe taking this product without negative side affects.