CREATINE HIGHLIGHTS
Increase strength*

Increase training volume*
Increase muscle size*
Improved performance*
Suggested use: As a dietary supplement, take one (1) Scoop (5g) with water or other sports nutrition drink.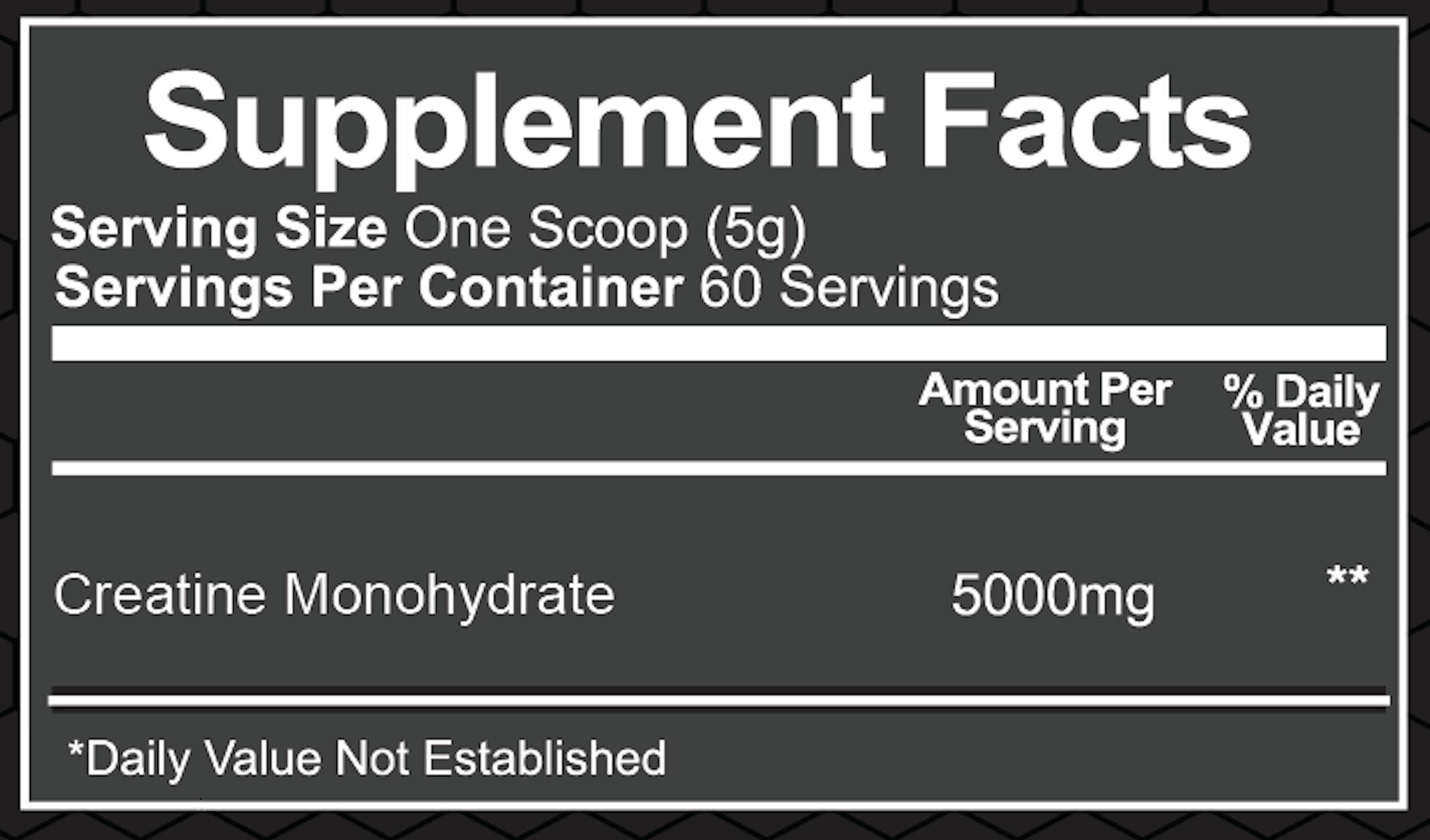 For use by healthy adults only, not recommended for persons under the age of 18. Do not use if you are pregnant or nursing. Individuals should not consume other caffeinated products in conjunction with this product. Seek advice from a healthcare professional before taking if you have any preexisting medical condition to ensure it is safe to take this product. In case of accidental overdose, contact a poison control center immediately. Avoid alcohol and prescription stimulants while taking this product. Exceeding recommended serving will not improve results and may cause serious adverse health effects. Discontinue use and contact a licensed healthcare professional immediately if you experience an unusually rapid heartbeat, dizziness, severe headache, or shortness of breath. KEEP OUT OF THE REACH OF CHILDREN.
---
UXO Creatine delivers 5g of Micronized Creatine Monohydrate.
So what is Creatine? TO START, CREATINE IS PRODUCED NATURALLY BY OUR OWN BODIES AND FOUND IN MANY FOOD PRODUCTS WE EAT TODAY. IT INCREASES PROTEIN SYNTHESIS WHICH IS NECESSARY FOR BUILDING MUSCLE. THE MORE EFFICIENTLY YOUR BODY CREATES PROTEIN SYNTHESIS, THE FASTER YOU CAN PRODUCE MUSCLE TISSUE. CREATINE IMPROVES YOUR BODY'S ABILITY TO PRODUCE ADENOSINE TRIPHOSPHATE (ATP), WHICH IS A RAW SOURCE OF ENERGY, ALLOWING YOU TO PUSH YOUR MUSCLES TO NEW LIMITS. AT THE SAME TIME, CREATINE PULLS WATER FROM THE BODY INTO THE MUSCLES GIVING THEM A FULLER LOOK AND KEEPING THEM HYDRATED, LEADING TOWARD IMPROVED PERFORMANCE IN THE GYM.*
---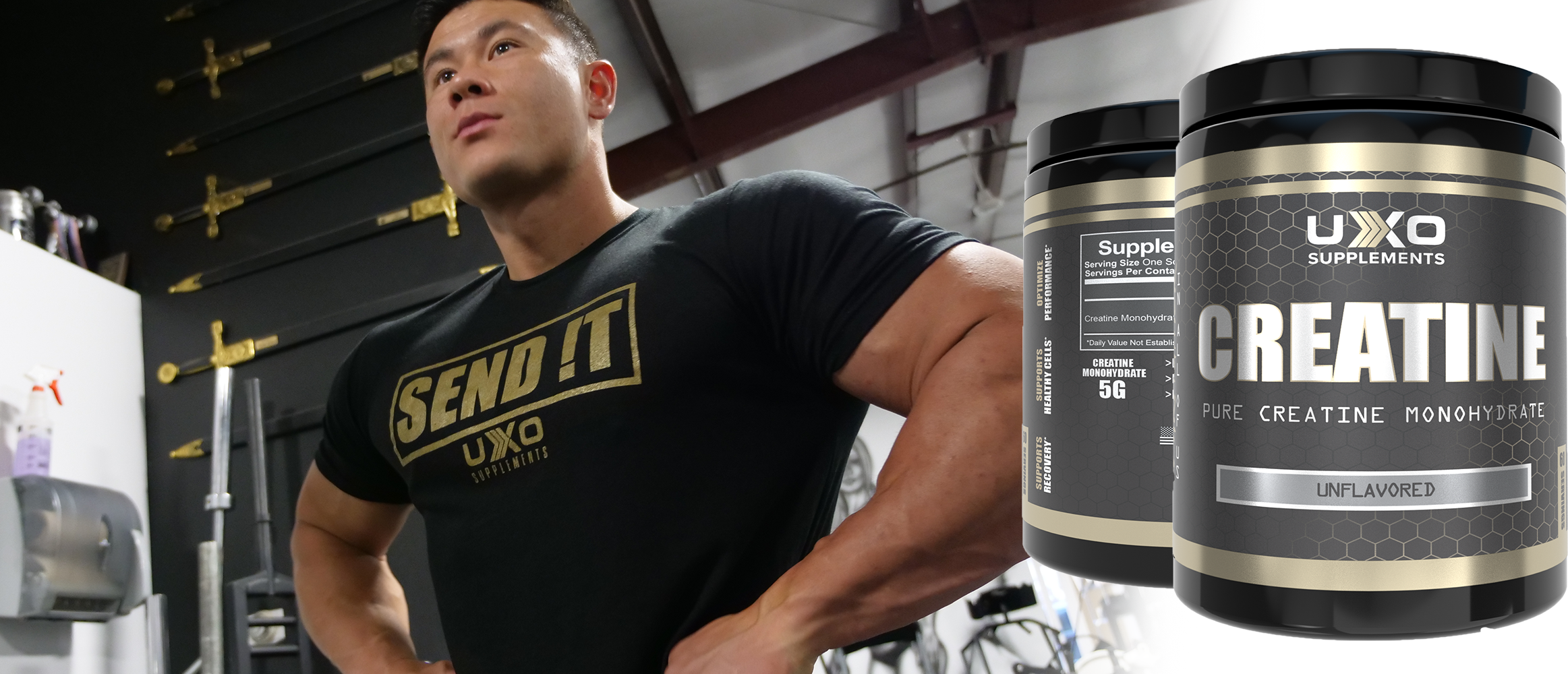 Best Time To Take CREATINE?
IT IS IMPORTANT TO TAKE CREATINE PRIOR TO WORKING OUT FOR ALL THE BENEFITS LISTED ABOVE. CREATINE CREATES MORE ATP FOR YOUR MUSCLES, LEADING TO MORE ENDURANCE AND THE ABILITY TO LIFT MORE WIEGHT.* SOME STUDIES SHOW IT IS MORE IMPORTANT TO TAKE IT POST WORKOUT, FLUSHING NECESSARY NUTRIENTS TO REPLENISH WHAT YOU HAVE DEPLETED DURING THE WORKOUT. EVERYBODY'S BODY WORKS DIFFERENTLY. I ENCOURAGE YOU TO TRY BOTH METHODS TO SEE WHICH DELIVERS OPTIMAL RESULTS.
RESEARCH HAS SHOWN THAT 5-10G IS ALL THAT IS NEEDED PER DAY. HOWEVER, MANY OF THE LEADING NAME BRANDS INCLUDE MUCH LESS THAN THAT AMOUNT IN THEIR PREWORKOUT FORMULAS. SOME ATHLETES PREFER TO CYCLE ON AND OFF CREATINE. BY LOADING, THEY WILL TAKE 20G OR MORE TO SATURATE THEIR MUSCLES GIVING THEM QUICKER ACCESS TO THE ATP, DELIVERING FASTER GAINS. WHEN LOADING, YOU CYCLE A MONTH ON AND THEN CYCLE OFF OF CREATINE (ELIMINATING IT FROM THEIR DIET) FOR ANOTHER MONTH.*
WHY IS IT NOT FOUND IN YOUR PREWORKOUTS?
WELL, THERE ARE DIFFERENT WAYS TO TAKE CREATINE, AND WE WANT TO BE ABLE TO MEET THE VARIOUS NEEDS OF ATHLETES TODAY. AS STATED ABOVE, SOME PEOPLE WISH TO TAKE 5G A DAY, WHILE OTHERS WISH TO CYCLE WITH 20G A DAY FOR A MONTH, FOLLOWED BY A PERIOD OF NOT USING ANY. KEEPING A CREATINE FREE PREWORKOUT ALLOWS YOU TO STACK THE INGREDIENT AS YOU WISH.
ARE THERE ANY NEGATIVE SIDE EFFECTS?
WHILE CREATINE MONOHYDRATE IS ONE OF THE MOST RESEARCHED INGREDIENTS OUT THERE, YOU STILL NEED TO BE CAUTIOUS. CREATINE PULLS WATER INTO THE MUSCLES AND IS VALUABLE FOR INCREASING STRENGTH AND SIZE. BECAUSE OF THIS, IT IS IMPORTANT THAT YOU CONTINUE TO DRINK WATER DURING YOUR WORKOUT AND AFTER. IF NOT, YOU COULD EASILY BECOME DEHYDRATED WHICH COULD LEAD TO MEDICAL PROBLEMS.*
*These statements have not been evaluated by the Food & Drug Administration. This product is not intended to diagnose, treat, cure, or prevent any disease.