17034
Ghillie Greens (Superfood)
Regular price
$34.99
FREE Shipping over $75
/
BEST GREENS SUPERFOOD ON THE MARKET TODAY!!
GHILLIE GREENS was designed to optimize your internal health and improve your immune system.* While we cannot prevent ourselves from getting sick, we can give your body the necessary nutrients to build a stronger immune system, keeping us as healthy as possible.* GHILLIE GREENS will help enhance your focus and natural energy, promote healthier skin, and reduce stress levels while fighting off free radicals. If you are looking for a way to improve the way you feel each day . . . This is the product for you.
We probably don't get the recommended servings of vegetables we need each day. GHILLIE GREENS helps you bridge that gap with this nutrient and mineral rich formula. Including low-temperature processed, organic ingredients, non-GMO, and non-synthetic superfoods. Includes Trademarked KSM66 for its ability to reduce stress, anxiety, improve cognitive function, and promote endurance. Also includes Astragin for improved absorption to ensure the body utilizes GHILLIE GREENS to its maximum advantage.
Boost immune system and improved digestive function*
Includes Ashwagandha (KSM66) to improve endurance and reduce stress / cortisol*
Promotes natural energy and improved internal health*
Naturally sweetened and flavored
All products manufactured in USA and 3rd party tested for consumer safety.*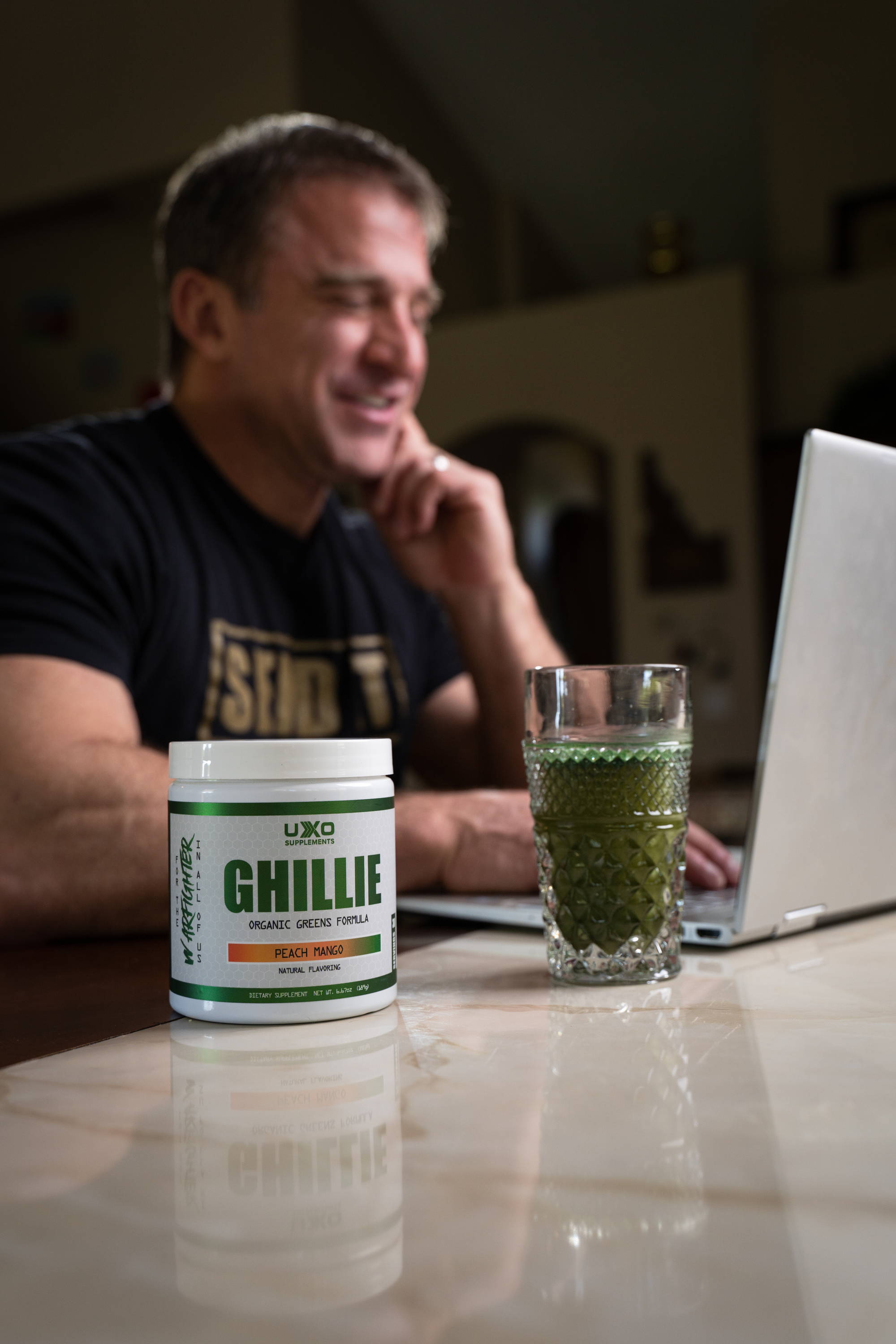 WHO SHOULD TAKE A GREENS PRODUCT?
---
I have never taken a Greens before . . . Is it right for me? There are many benefits associated with taking a superfood. While it has some fitness related benefits the product can help anybody looking to improve their overall well being. Here are some reasons to start taking Ghillie Greens today:
You are looking to improve exercise endurance in the gym*

Someone looking to bridge their nutrient gap by not taking in enough vegetables*

Looking to improve the way you feel . . . healthier well being*

Looking for improved focus and cognitive function throughout the day*

Wanting more natural energy*

Looking to reduce stress and unnecessary cortisol levels*

Want to support and strengthen you immune system*

Someone looking for a 100% organic and natural formula (sweetened with Stevia)
There are so many positive benefits to taking a Greens Superfood for all walks of life. It doesn't matter if you are an athlete, a blue collar worker, or even a retired old hag :). This product can benefit you and the way you feel daily.
Use as a dietary supplement, take 1 scoop with 8-12 fl. oz. of water.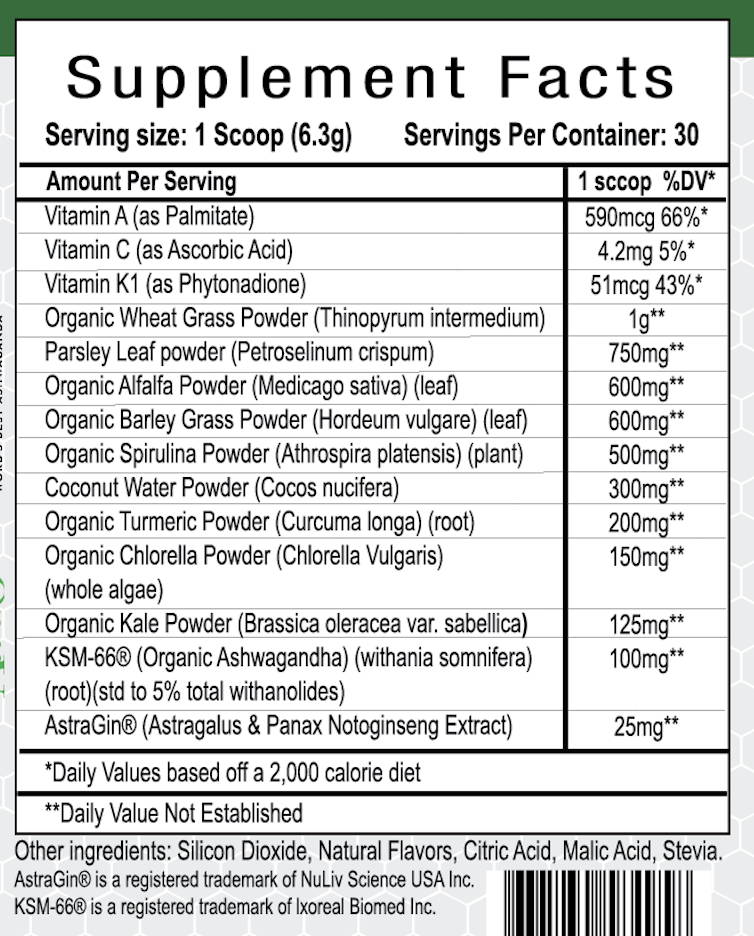 For use by healthy adults only, not recommended for persons under the age of 18. Do not use if you are pregnant or nursing. Individuals should not consume other caffeinated products in conjunction with this product. Seek advice from a healthcare professional before taking if you have any preexisting medical condition to ensure it is safe to take this product. In case of accidental overdose, contact a poison control center immediately. Avoid alcohol and prescription stimulants while taking this product. Exceeding recommended serving will not improve results and may cause serious adverse health effects. Discontinue use and contact a licensed healthcare professional immediately if you experience an unusually rapid heartbeat, dizziness, severe headache, or shortness of breath. KEEP OUT OF THE REACH OF CHILDREN.
30 servings per container.
WHAT ARE THE BENEFITS OF TAKING GHILLIE GREENS?
Bridging your nutritional gaps within your diet can have huge positive benefits on your daily routine. Benefits you could see include:
Improved natural energy*

Increased mental clarity and focus*

Reduced stress levels*

Reduced inflammation and bloating*

Stronger immune system*
HOW DO I TAKE GHILLIE GREENS?
I recommend taking Ghillie Greens first thing after waking up. Mix it with 8-12 oz of cold water. For optimal results combine this with Omegas and CLAs.
WHO SHOULD TAKE GHILLIE GREENS?
Ghillie Greens is for everybody who has health and wellbeing at the front of their mind. It will help you fill the gaps in your diet and deliver optimal performance throughout the day.
IS GHILLIE NATURALLY SWEETENED?
Yes, Ghillie Greens is 100% organic. It is sweetened with Stevia, and naturally flavored. It is a Non-GMO product and free of gluten. (While wheat contains gluten, wheat grass does not).
WHAT ARE THE BENEFITS OF ASHWAGANDHA (KSM66)?
READ THE CLINICAL STUDIES BEHIND ASHWAGANDHA KSM66 and its many benefits.
*These statements have not been evaluated by the Food and Drug Administration. This product is not intended to diagnose, treat, cure, or prevent any disease.