16068
Pro Refit
Regular price
Sale price
$34.99
/
SMOOTH DELICIOUS PROTEIN . . . HIT THOSE MACROS AND STAY ON TRACK
NOW IN 2lb AND 5lb CONTAINERS
You get more servings per bottle and more whey in every scoop! WHEY REFIT contains an incredible 75% protein, while most other brands of protein contain less than 70%. Plus now you can get a 5lb container with a whopping 72 servings in it!!!!
WHEY REFIT is ultra-filtered whey, providing the highest biological value of any protein source. It contains a combination of Whey Concentrate and Whey Isolate. This makes it ideal for building lean muscle. Each scoop contains both Papain and Protease for protein absorption, as well as Whey Isolate and BCAAs (Leucine, Isoleucine, and Valine) for protein synthesis.
Premium Protein blend for real results*
No clumping, nice consistency*
Cold Processed Ultra fitration process to retain fragile nutrient values*
Digestive enzymes for maximum absorption*
All products manufactured in USA and 3rd party tested for consumer safety.*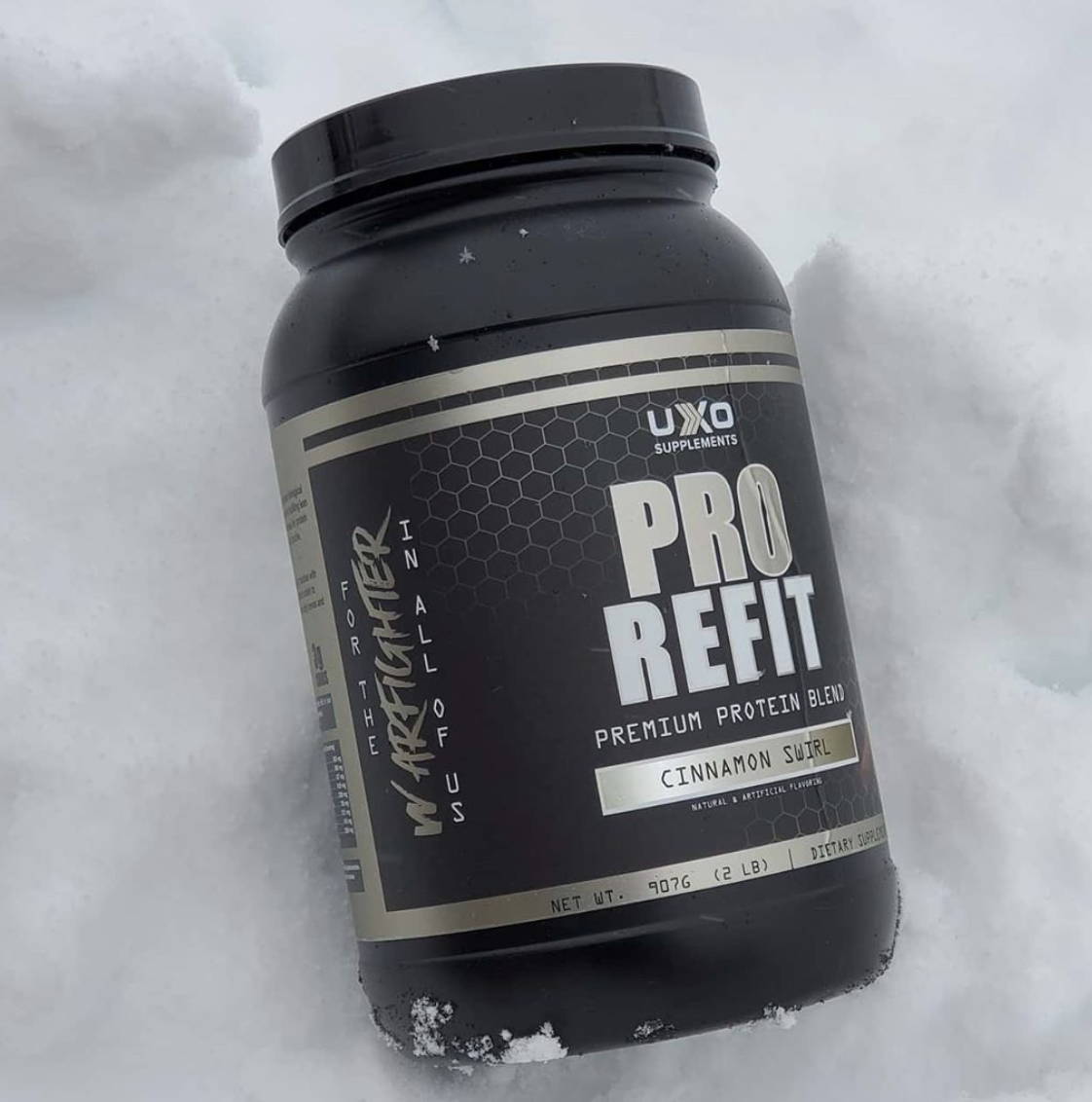 Mix one rounded scoop with 6-8 oz. of water, milk, or your favorite beverage. Vary the amount of liquid for taste and consistency preference.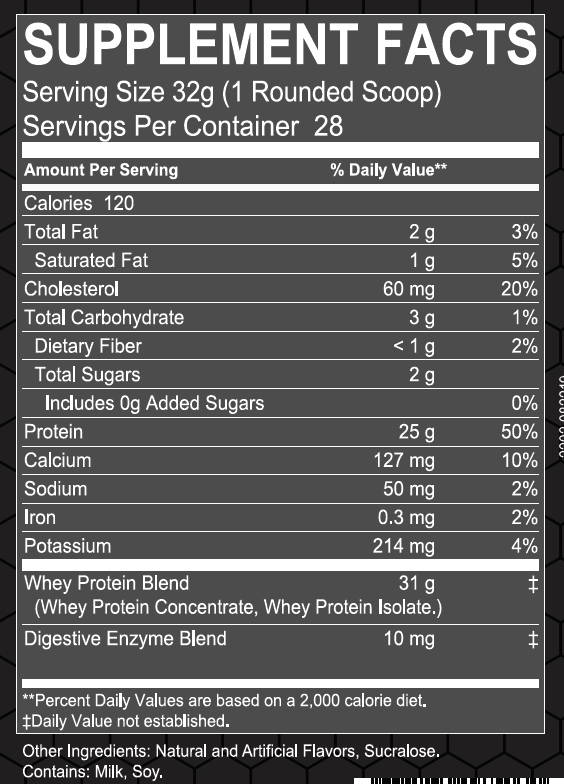 For use by healthy adults only, not recommended for persons under the age of 18. Do not use if you are pregnant or nursing. Individuals should not consume other caffeinated products in conjunction with this product. Seek advice from a healthcare professional before taking if you have any preexisting medical condition to ensure it is safe to take this product. In case of accidental overdose, contact a poison control center immediately. Avoid alcohol and prescription stimulants while taking this product. Exceeding recommended serving will not improve results and may cause serious adverse health effects. Discontinue use and contact a licensed healthcare professional immediately if you experience an unusually rapid heartbeat, dizziness, severe headache, or shortness of breath. KEEP OUT OF THE REACH OF CHILDREN.
28 servings per container.
THE TRUTH ABOUT PROTEIN POWDER
It is important to understand what you are putting in your body as fuel. We ensure that we are as transparent as possible with our protein formulas to give you peace of mind with quality of ingredients we use. 3rd party tested for consumer safety, with no banned substances, and no surprises. All products are manufactured in a GMP Certified and FDA approved facility with quality assurance as our top priority.
THE UXO DIFFERENCE . . .
When whey protein is low-temperature or (cold-processed) it retains many of its fragile immune factors and must have nutrient values. This leaves it loaded with the ideal blend of fast-absorbed amino acids, anti-inflammatory immune factors and metabolism-boosting peptides, along with potent antioxidants and alkaline minerals. Quick acting, body fueling, muscle building, protein that tastes amazing.
PRO REFIT is absorbed immediately, flooding your muscles with key amino acids. This makes REFIT the perfect protein to take immediately after your workout, when your muscles crave protein the most.
PRO REFIT uses top quality Whey Concentrate and Whey Isolate as the primary protein sources in this product. We have included digestive enzymes to support the absorption and distribution of protein throughout the body. Including a whopping 5.1g of naturally occurring BCAAs and 11.1g of EAAs per serving. This product contains zero non-protein aminos and no fillers . . . Plus it tastes great!!!
ALLERGEN WARNING Manufactured on shared equipment that produces products containing milk, eggs, soybeans, wheat, shellfish, fish oil, tree nuts, and peanuts. *These statements have not been evaluated by the Food and Drug Administration. This producgt is not intended to diagnose, treat, cure or prevent any disease.
---
WHEN SHOULD I TAKE PRO REFIT
This formula includes 2 very fast digesting proteins with Whey Concentrate and Whey Isolate proteins. We also included Digestive Enzymes to help increase the rate at which the protein is absorbed, giving your body faster access to increase lean muscle gains. It is best if used as a post workout shake (within 30 minutes of completing workout) or an in between meals snack based on your calculated macros.*
Too much protein can be dangerous, so ensure you are using the product in a responsible manner. It is safe to use different proteins throughout the day to meet different needs. Pro Refit would be perfect to take post workout (and for better results mixed with our Creatine). Night time would be a perfect time to add 7blend, right before bed time, to keep your body in an anabolic state while you sleep.*
HOW DOES THE ULTRA FILTRATION PROCESS WORK
WHICH PROTEIN IS RIGHT FOR ME?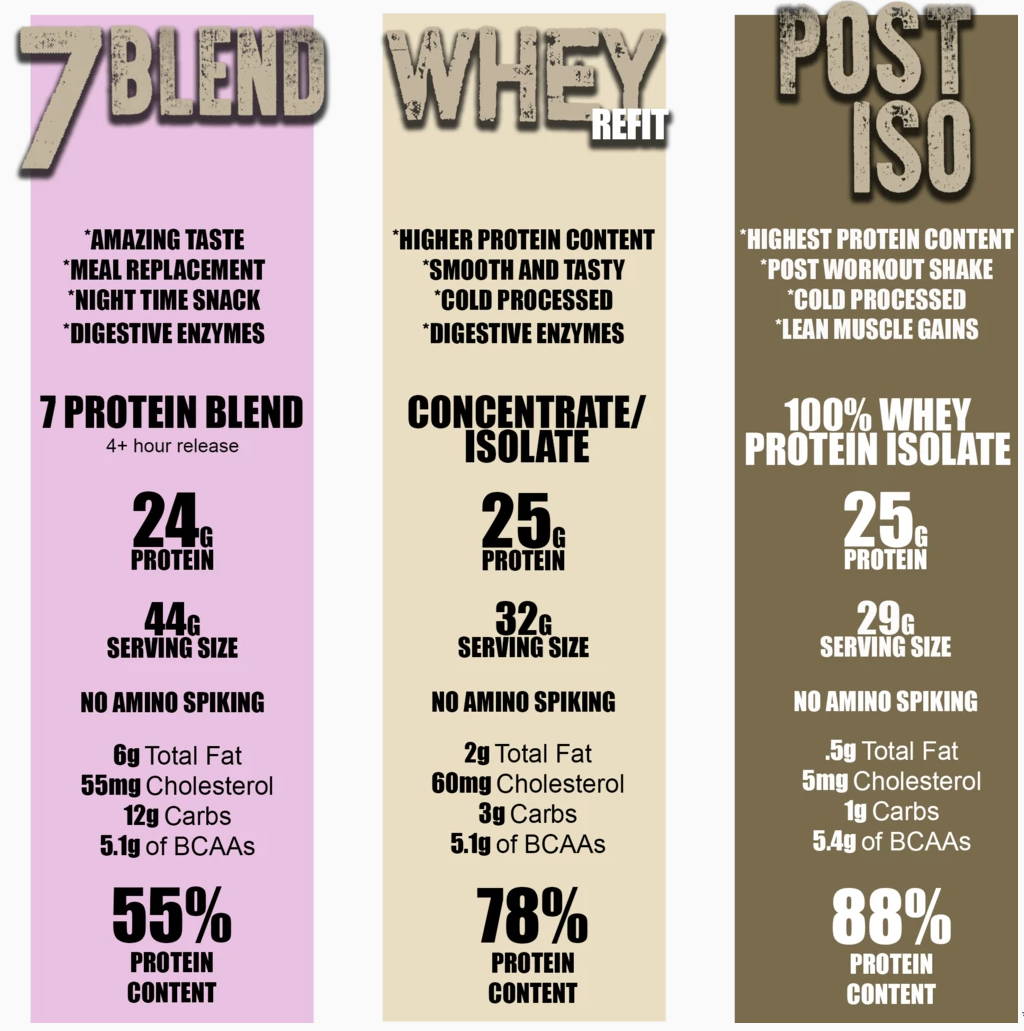 *These statements have not been evaluated by the Food and Drug Administration. This product is not intended to diagnose, treat, cure or prevent any disease