16083
Stimburn
Regular price
$37.99
FREE Shipping over $100
/
SHED WEIGHT NOT MUSCLE . . .
UXO STIMBURN is an advanced thermogenic fat-burning formula containing a synergistic blend of ingredients to support fat loss in multiple pathways.* If taken daily, STIMBURN can increase metabolism and fat-burning for up to 8 hours.* When combined with exercise and a reduced-calorie diet, STIMBURN can help you reach your weight loss goals.*
One of the most effective and fast acting new fat burners on the market.  STIMBURN contains an ingredient blend designed to burn fat, control food cravings, deliver long lasting clean energy throughout the day minus the jitters you will find in other weight loss products.* Plus get 60 Servings per container!!!!
Synergistic blend of ingredients to spark weight loss and increase energy.
Accelerates Metabolism with our lipogenic blend.*
Boost Energy Levels with combination of Caffeine Phenylethylamine HCL, Tyrosine, and Theobromine.*
Curb Appetite / Suppress hunger*
Includes thermogenic agents to assist with the fat burn.*
All products manufactured in USA and 3rd party tested for consumer safety.*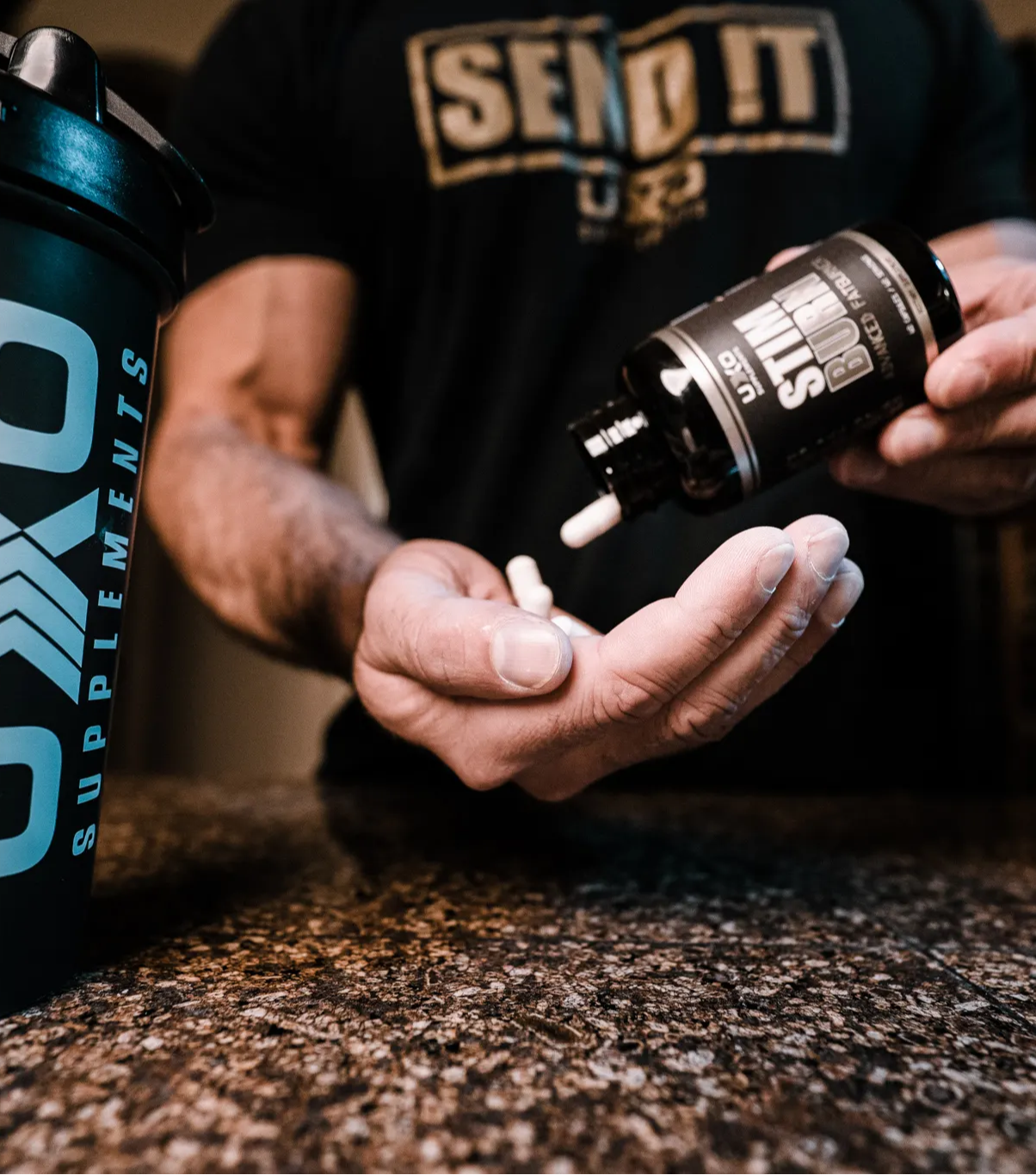 ---
Caffeine:

  When consumed before exercise—can cause fat cells to be used as an energy source as opposed to glycogen. Also, caffeine can increase your metabolism, which makes you burn more calories throughout the day. As a bonus, caffeine acts as an appetite suppressant, making you consume less overall.*
---
L-Tyrosine:

  Amino acid that produces dopamine (which plays a role in mood, sleep, learning, memory, focus and motor control) to reduce stress and improve overall mood.* Tyrosine is a naturally occurring compound of primary importance for mental health.* It is a precursor to some of your most important brain chemicals and hormones.* In fact, the US military has put tyrosine to the test and found it exceptional for increasing resilience to extreme stress.*
---
L-Theanine: An amino acid found primarily in black and green tea, it is partly responsible for the beverage's impact on mood. It appears to alter levels of various neurotransmitters, producing a calming effect that helps counter some action of the caffeine (jitters). At the same time, it works with the caffeine to pro­mote concentration on mental tasks, pro­ducing what tea lovers sometimes call "alert calmness.*
---
Theobromine: Naturally occuring compound found in cacao plants. It serves many healthy benefits to the body.* It is a vasodilator, causing the blood vessels to widen, which can improve blood pressure levels.* Theobromine can also raise HDL (good) cholesterol while reducing LDL (bad) cholesterol.* From a fat loss standpoint, Theobromine suppresses the appetite, which leads to weight loss.* Since it is considered a stimulant, it also provides additional energy and loss of water weight.*
---
BITTER ORANGE [CITRUS AURANTIUM L] [6% SYNEPHRINE]
Bitter Orange [Citrus aurantium L] (Unripen fruit] [6% Synephrine]: This stimulant should be used cautiously (avoid if you have heart / cardio vascular issues).* Synephrine disables the blocking receptors on fat cells allowing them to be metabolized faster.* In a six-week study published in "Current Therapeutic Research," scientists gave bitter orange and caffeine to a small group of people, and placebo to another group. The group taking bitter orange lost a significant amount of weight, while the placebo group did not, indicating that bitter orange and caffeine have significant fat loss properties.*(1)
---
Yohimbine HCL: An active indole alkaloid derived from the bark of the Pausinystalia Yohimbe tree. It is used as a dietary supplement designed to improve sexual function in men and weight loss for both genders. It increases fat oxidation and lipid mobilization leading to faster fat loss.*
---
Start with 1 capsule to assess tolerance. Never take more than 2 capsules in a 24 hour period. Don't take past 4pm. Use for no longer than 8 weeks straight, followed by an off period of at least 2 weeks before resuming use again.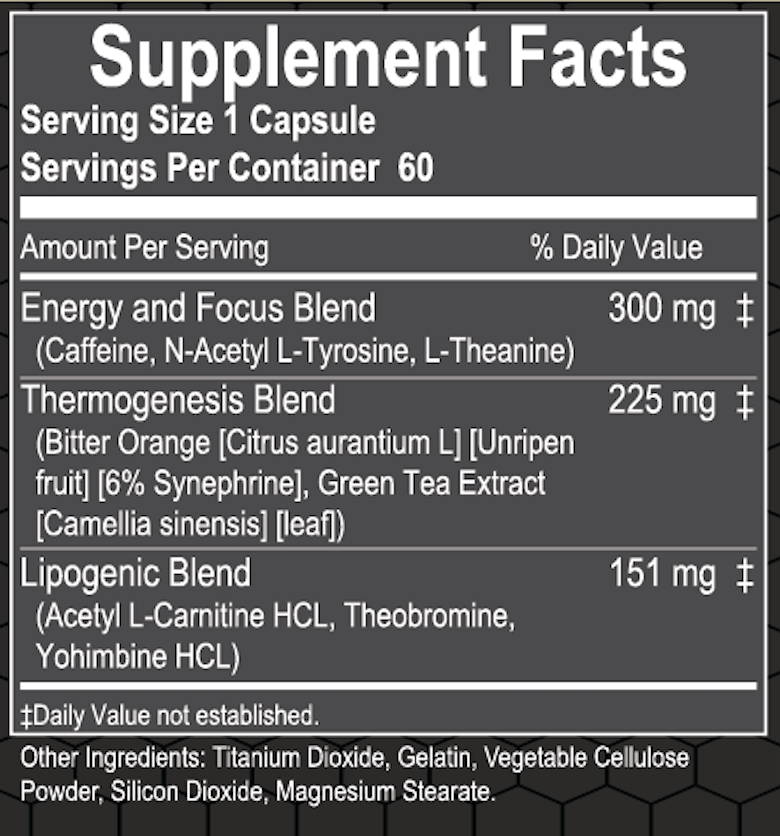 For use by healthy adults only, not recommended for persons under the age of 18. Do not use if you are pregnant or nursing. Individuals should not consume other caffeinated products in conjunction with this product. Seek advice from a healthcare professional before taking if you have any preexisting medical condition to ensure it is safe to take this product. In case of accidental overdose, contact a poison control center immediately. Avoid alcohol and prescription stimulants while taking this product. Exceeding recommended serving will not improve results and may cause serious adverse health effects. Discontinue use and contact a licensed healthcare professional immediately if you experience an unusually rapid heartbeat, dizziness, severe headache, or shortness of breath. KEEP OUT OF THE REACH OF CHILDREN.
IS IT STIM BURN SAFE TO USE?
We use ingredients that are safe and effective to use . . . However, everybody's body reacts differently to ingredients. We recommend against using this product if you suffer from heart or cardio vascular conditions. To be safe, we always recommend asking your Physician first. This product is intended to be a morning supplement that will give you additional energy and help suppress appetite. Do not attempt to take this before working out, and should always take with food.
We recommend taking it in the morning, preferably after you have already conducted your workout. Take with your protein shake or morning meal to reduce jitters. As recommended, start with 1 capsule to assess tolerance and move up to 2 pills you feel comfortable. Never exceed 2 pills in one 24 hour period.*
WHAT ELSE CAN I STACK WITH THIS?
All of our formulas were designed to stack with one another. Depending on your goals, you can stack this product with various other ones. I would recommend stacking it back to back with our Preworkout formulas. Space out your stimulant intake to avoid spiking your hear rate and metabolism.*
STIM BURN is an elite fat burning formula designed for anyone of the following:
You are looking to increase the effects of every workout for faster results.*

You are bulking and want to limit the amount of fat gained during the process.*

You are looking to shed some extra pounds.*

Looking to increase ketone levels based on your diet plan.*
(This formula will not work on its own, you need to combine it with a workout plan and a healthy diet for optimal results.)
*These statements have not been evaluated by the Food and Drug Administration. This product is not intended to diagnose, treat, cure, or prevent any disease.