SEND IT (PREWORKOUT) HIGHLIGHTS
Muscle Splitting Pump (Improved Nitric Oxide)*

Clean Energy with No Crash*
Improved Endurance & Focus*
Suggested use: As a dietary supplement, take one (1) Scoop with 8-12 fl oz of water. New users may wish to assess tolerance with 1/2 scoop.
Malic Acid, Natural and Artificial Flavors, Sucralose, Acesulfame Potassium, Silicon Dioxide.
For use by healthy adults only, not recommended for persons under the age of 18. Do not use if you are pregnant or nursing. Individuals should not consume other caffeinated products in conjunction with this product. Seek advice from a healthcare professional before taking if you have any preexisting medical condition to ensure it is safe to take this product. In case of accidental overdose, contact a poison control center immediately. Avoid alcohol and prescription stimulants while taking this product. Exceeding recommended serving will not improve results and may cause serious adverse health effects. Discontinue use and contact a licensed healthcare professional immediately if you experience an unusually rapid heartbeat, dizziness, severe headache, or shortness of breath. KEEP OUT OF THE REACH OF CHILDREN.
---
UXO's SEND !T is the ultimate pre workout formula to improve performance in the gym. We promise to bring you the absolute best ingredients, formulated in a synergistic blend, creating the strongest Pre-workout EVER concocted. We have 3 core pillars we focused on with the development of this product - they need to provide: clean energy with no crash, deliver massive pumps, and unrivaled workout sessions. SEND !T contains 10 core ingredients to achieve this philosophy.
Designed to maximize your performance in the gym. We stand behind this product, as do the 100s who helped us develop the formula through testing and feedback. If you do not love this product, we will give you 100% of your money back. Get yours today!!
---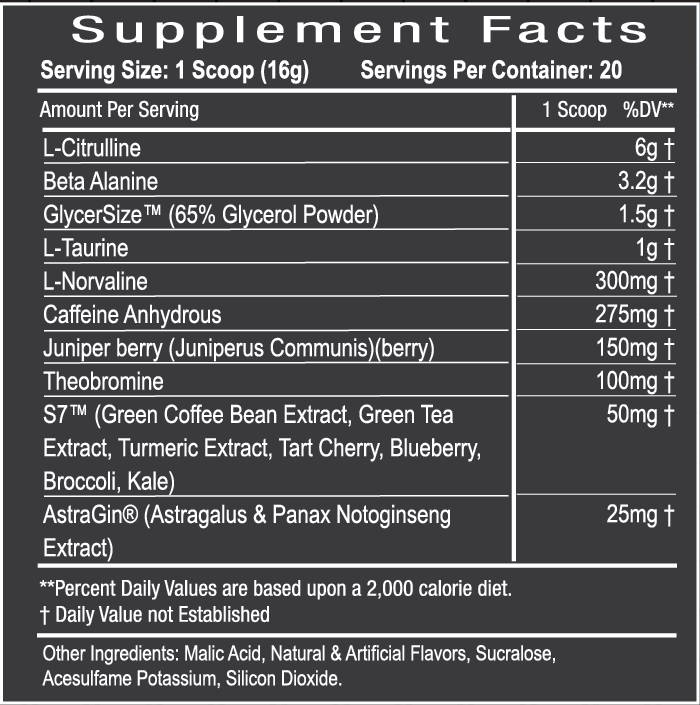 Effective dose of Citrulline at 6g, not to be confused with Citrulline Malate (which in a 2:1 ratio would only give you 4g of Citrulline in this serving size). Citrulline is more effective at boosting Nitric Oxide and Increases Training Volume.*
3.2g of Beta Alanine (Clinical dose), enhances performance by increasing exercise capacity and decreasing muscle fatigue.*
Glycerol is a naturally occurring sugar alcohol that has been successfully used by athletes, bodybuilders and weightlifters for several years to induce massive muscle pumps.*
GlycerSize™ from Pinnacle Ingredients is a newer, more stable form of Glycerol powder with a yield of 65% glycerol content!
Taurine promotes cardiovascular health, insulin sensitivity, electrolyte balance, and promote blood flow.*
L-Norvaline  has been noted in research to be a mixed Arginase inhibitor. Arginase is the enzyme in the body that degrades arginine — the primary substrate used to generate nitric oxide, increase blood flow, boost muscle pumps.*
CAFFEINE ANHYDROUS - 275mg
Improved energy and focus . . . Caffeine in large amounts acts as a vaso restrictor. This would be counter productive with all the pump ingredients we have in this formula. Keeping the dose under 275mg gives you clean energy without affecting the massive pump you will get from this formula.*
Juniper Berry has the ability to increase the effects of other stimulants in this formula. This creates a smoother build-up and delivery, with a more euphoric feeling to get you into the gym and killing every session.*
Theobromine is derived from the Cocoa plant. Another stimulant compound that can improve energy, improve blood flow, and also shown to improve your mood.*
50mg of S7™ Plant based ingredient that is clinically researched and claimed to increase Nitric Oxide Production by 230%.*
AstraGin™ can have a host of benefits on one's wellbeing, as it is able to increase to absorption of key amino acids which increase nitric oxide. This increases the uptake of all the pump ingredients in this formula, delivering maximum benefit.*
*These statements have not been evaluated by the Food and Drug Administration. This product is not intended to diagnose, treat, cure, or prevent any disease.
BENEFITS OF TAKING SEND IT
SEND IT is our new intense preworkout formula of choice! Each serving of SEND IT will carry you through the most grueling sessions, pushing you through barriers you have not reached before.* What you can expect:
Strong and tight muscle pumps*

Improved energy with no crash*

Focus and drive*

Improved endurance*
We recommend taking 1 scoop of SEND IT with 8-12 fl oz. of water 30 minutes prior to training session. New users may wish to assess tolerance with one half scoop and increase from there as necessary.
I DONT WANT TO FEEL WIRED AND BE UP ALL NIGHT
SEND IT contains 275mg of Caffeine . . . This is a recommended dose to deliver increased energy levels without restricting your blood flow. We have also combined caffeine with 150mg of Juniper berry and 100mg of Theobromine. Juniper berry enhances the effects of caffeine without affecting heartrate.* Theobromine also acts as a stimulant, but creates more of a euphoric feeling, improving your mood, while reducing negative side effects of stimulants such as jitters or crashing post workout.*
WHAT SHOULD I STACK SEND IT WITH?
At UXO, we designed all products to stack with one another depending on what your goals are. Looking to lose weight and shred? Stack it with a non-stim fat burner. Looking to increase size and strength? Combine it with raw creatine and a Pro Refit for lean muscle gains.
Creatine - We purposefully made our Preworkout formulas creatine free. This allows you to take Creatine how you like . . . whether you cycle on or off of it, or take it daily in 5g servings. You can now add Creatine separately to meet your goals.*
POST ISO or PRO REFIT are almost a necessity for any fitness enthusiast. It is important to ingest protein within 30 minutes of completing your workout. This helps rebuild and repair the muscle tissue you just damaged leading to faster muscle gains.* Depending on your macro count, ingest 24g of pure protein or double the serving size to up to 48g.
CLAs and OMEGA 3 - For internal health, these essential fatty acids are valuable to your health with supporting metabolism, improving body composition, and supporting joint function.*