YOUR NON-STIMULANT FAT BURNING ACCELERATOR*
SHED WEIGHT NOT MUSCLE . . .
NATURAL CUT contains a synergistic blend of eight ingredients that support fat loss from two important angles. By boosting your metabolism and through it's thermogenic properties.
NATURAL CUT includes thermogenic herbs can boost energy levels and help your body burn fat more effectively.* Without the jitters or nasty crash you can get from other stimulant based formulas out on the market.
NATURAL CUT also helps control your appetite, by reducing cravings for excess food and sugar. *
Healthy weight loss option*
Boost metabolism for accelerated fat loss*
All products manufactured in USA and 3rd party tested for consumer safety.*
SPARK YOUR METABOLIC PROCESS TO LOSE SOME OF THAT STUBBORN EXCESS FAT.*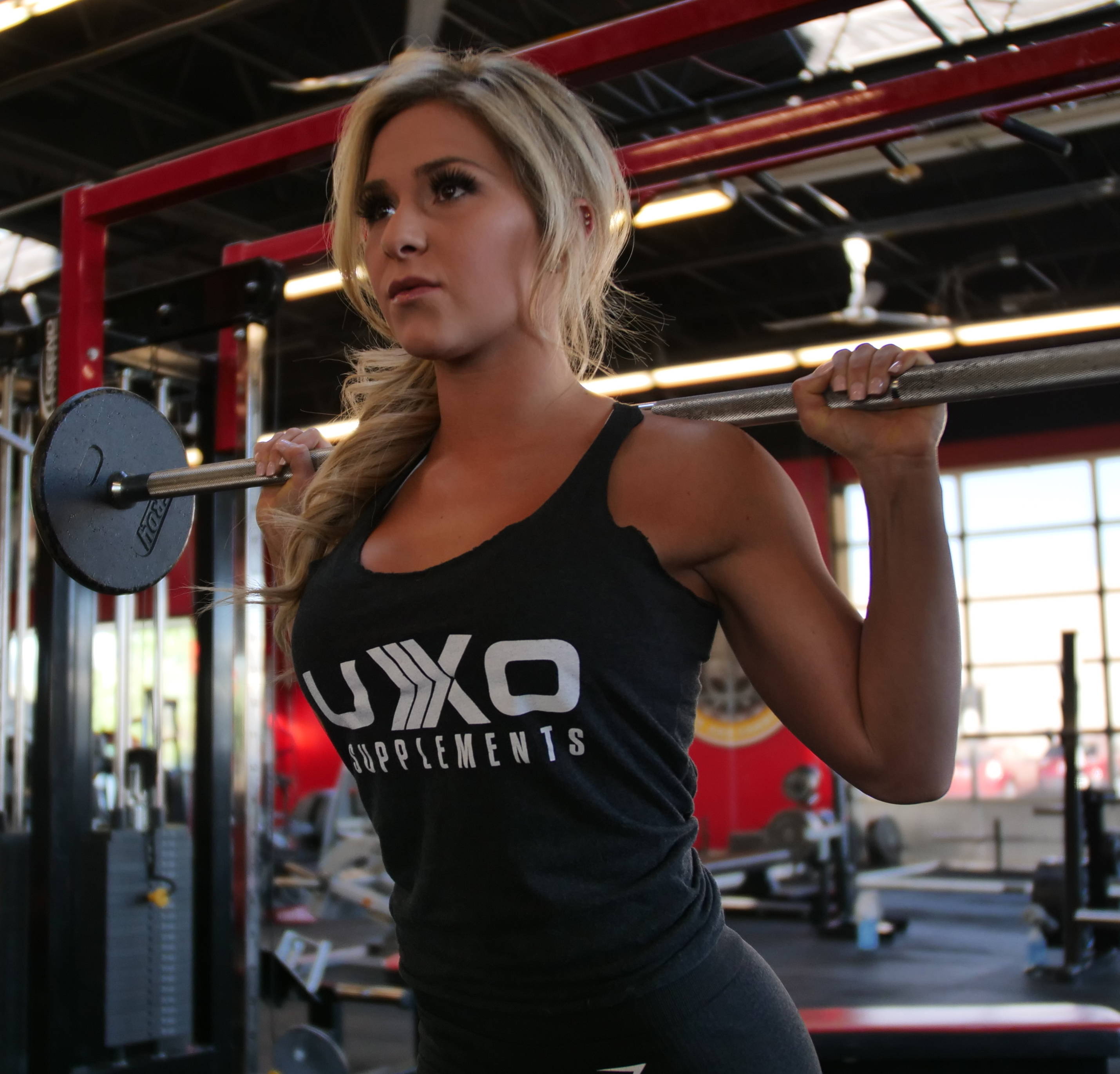 WHO IS NATURAL CUT FOR?
NATURAL CUT is an elite fat burning formula designed for anyone of the following:
You are looking to increase the effects of every workout for faster results.*

Anybody looking to lose some extra weight when combined with a healthy diet and exercise.*

People looking for an effective fat burner, but are sensitive to stimulants*

Looking for a pre-workout fat burner that will help you sweat some extra weight off.*

Safe formula for men and women.*
(This formula will not work on its own, you need to combine it with a workout plan and a healthy diet for optimal results.)
---
Chromium:Supports weight loss while preserving muscle tissue. There have been many studies focused on chromium supplementation by athletes: showed a significant difference in weight loss for Chromium users over placebo groups.*(1)
Banaba Leaf Extract: Known for it's blood sugar regulating effects, this natural ingredient has been shown to stimulate glucose uptake and also help reduce fat.* Banaba has shown weight loss (an average of 2-4 lbs. per month) in some studies.*(2)
Glucomannan Root Powder: Is a natural dietary fiber derived from the Konjac plant. It has been shown that this ingredient can help with weight loss in overweight and obese people with consistent supplementation.*(3)
L-Carnitine: Breaks down fatty tissue and generates energy. L-Carnitine has been shown to support the heart and cardiovascular system, help athletes optimize their performance, and help burn fat more easily.*
Garcinia Cambogia Extract (fruit) (min. 50% Hydroxycitric Acid:  The peel of this fruit contains high amounts of hydroxycitric acid (HCA), which is the active ingredient that can deliver weight loss benefits. Some human studies have found that garcinia cambogia suppresses appetite and makes you feel fuller.*(5)
N-Acetyl L-Tyrosine:amino acid that produces dopamine (which plays a role in mood, sleep, learning, memory, focus and motor control) to reduce stress and improve overall mood.*
 Green Tea Leaf Extract: Increases metabolic rate and fat breakdown without elevating heart rate and blood pressure. This ingredient is also rich in Antioxidants that can reduce oxidative stress by fighting cell damage caused by free radicals.
 L-Theanine: An amino acid found primarily in black and green tea, it is partly responsible for the beverage's impact on mood. It appears to alter levels of various neurotransmitters, producing a calming effect that helps counter some action of the caffeine (jitters).*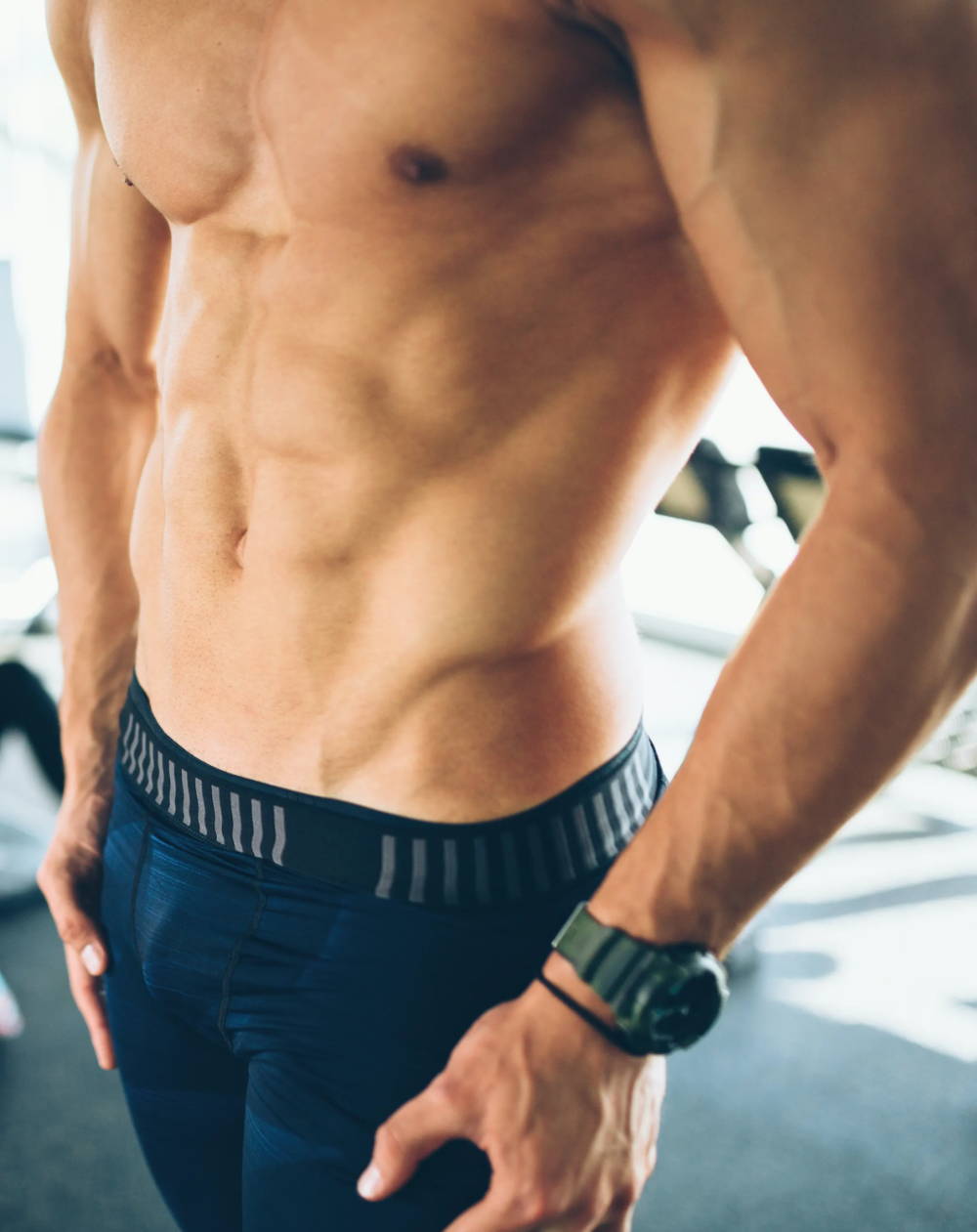 As a dietary supplement, take one (1) softgel capsule either first thing in the morning or 30 minutes prior to working out.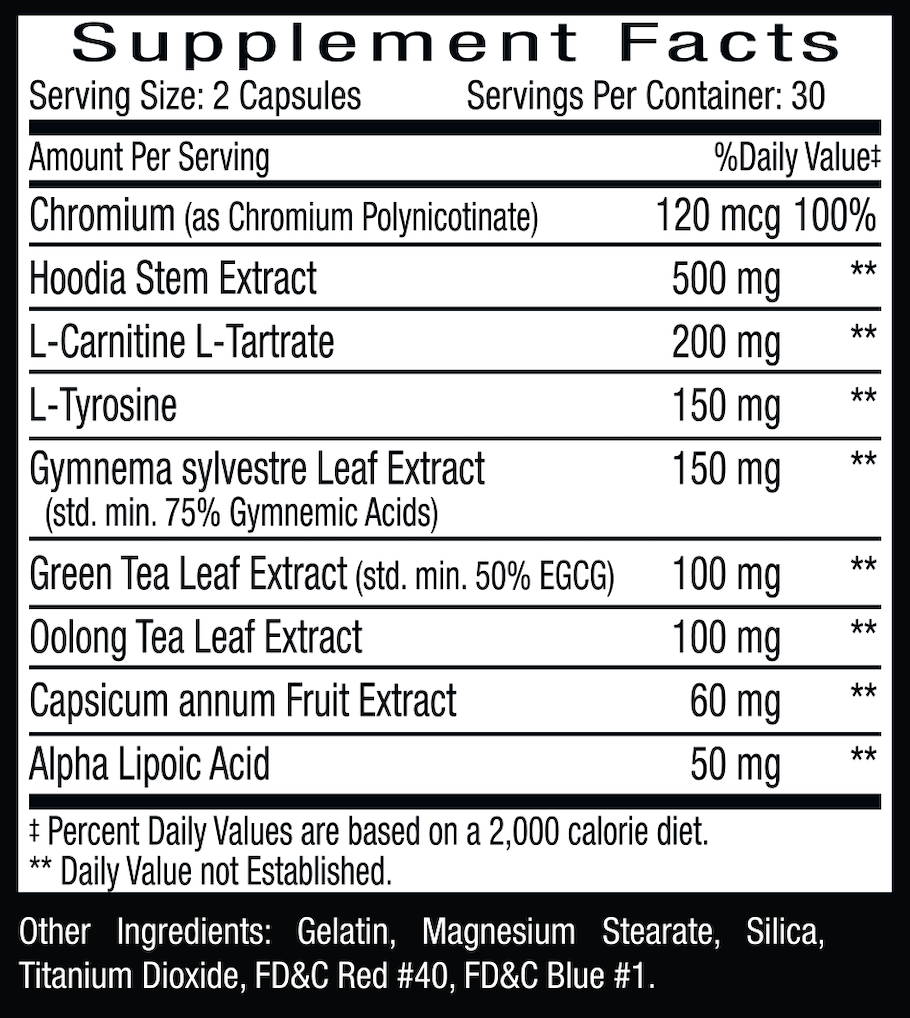 For use by healthy adults only, not recommended for persons under the age of 18. Do not use if you are pregnant or nursing. Individuals should not consume other caffeinated products in conjunction with this product. Seek advice from a healthcare professional before taking if you have any preexisting medical condition to ensure it is safe to take this product. In case of accidental overdose, contact a poison control center immediately. Avoid alcohol and prescription stimulants while taking this product. Exceeding recommended serving will not improve results and may cause serious adverse health effects. Discontinue use and contact a licensed healthcare professional immediately if you experience an unusually rapid heartbeat, dizziness, severe headache, or shortness of breath. KEEP OUT OF THE REACH OF CHILDREN.
60 softgel capsules per container.
Resources:
(1) I. Onakpoya, P. Posadzki ,E. Ernst (2013) Chromium supplementation in overweight and obesity: a systematic review and meta‐analysis of randomized clinical trials.
(2) Stohs S. J., Kaats G. R., and Preuss H. G. (2016) Safety and Efficacy of Banaba–Moringa oleifera–Green Coffee Bean Extracts and Vitamin D3 in a Sustained Release Weight Management Supplement. Phytother. Res., 30: 681–688. doi: 10.1002/ptr.5577.
(3) Safety and efficacy of glucomannan for weight loss in overweight and moderately obese adults. Keithley JK, Swanson B, Mikolaitis SL, DeMeo M, Zeller JM, Fogg L, Adamji J.J Obes. 2013; 2013:610908. Epub 2013 Dec 30.
(5) Am J Health Syst Pharm. 2018 Jan 15;75(2):17-22. doi: 10.2146/ajhp160915. Garcinia cambogia for weight loss.
*These statements have not been evaluated by the Food and Drug Administration. This product is not intended to diagnose, treat, cure or prevent any disease.