CLA (CONJUGATED LINOLEIC ACID) HIGHLIGHTS
Metabolism Support*

Converts Fat to Fuel*
Preserve Muscle Mass*
Take (1) Softgel capsules twice per day with food.
Consult with a physician prior to use if you have any medical conditions. Do not use if pregnant or lactating. KEEP OUT OF REACH OF CHILDREN, DO NOT USE IF SAFETY SEAL IS DAMAGED OR MISSING. STORE IN A COOL, DRY PLACE.
---
Non-STIM Fat Loss
CLA (60 Servings) Internal health is very important to us, as it is with many Americans today. We continue to see a growing population of health conscious individuals, looking to better themselves. CLA (Conjugated Linoleic Acid) is a supplement that can benefit anybody. CLAs are naturally occurring fatty acid found in meat and dairy products that promote several key benefits.
Support your metabolism, use fat as sources of fuel, without the jitters.*

CLA filters OMEGA acids into an easy-to-take supplement.*

Many people experience a decrease in muscle mass while trying to lose fat. Conjugated Linoleic Acid (CLA) can help preserve muscle mass and reduce body fat, improving your overall body composition.*
---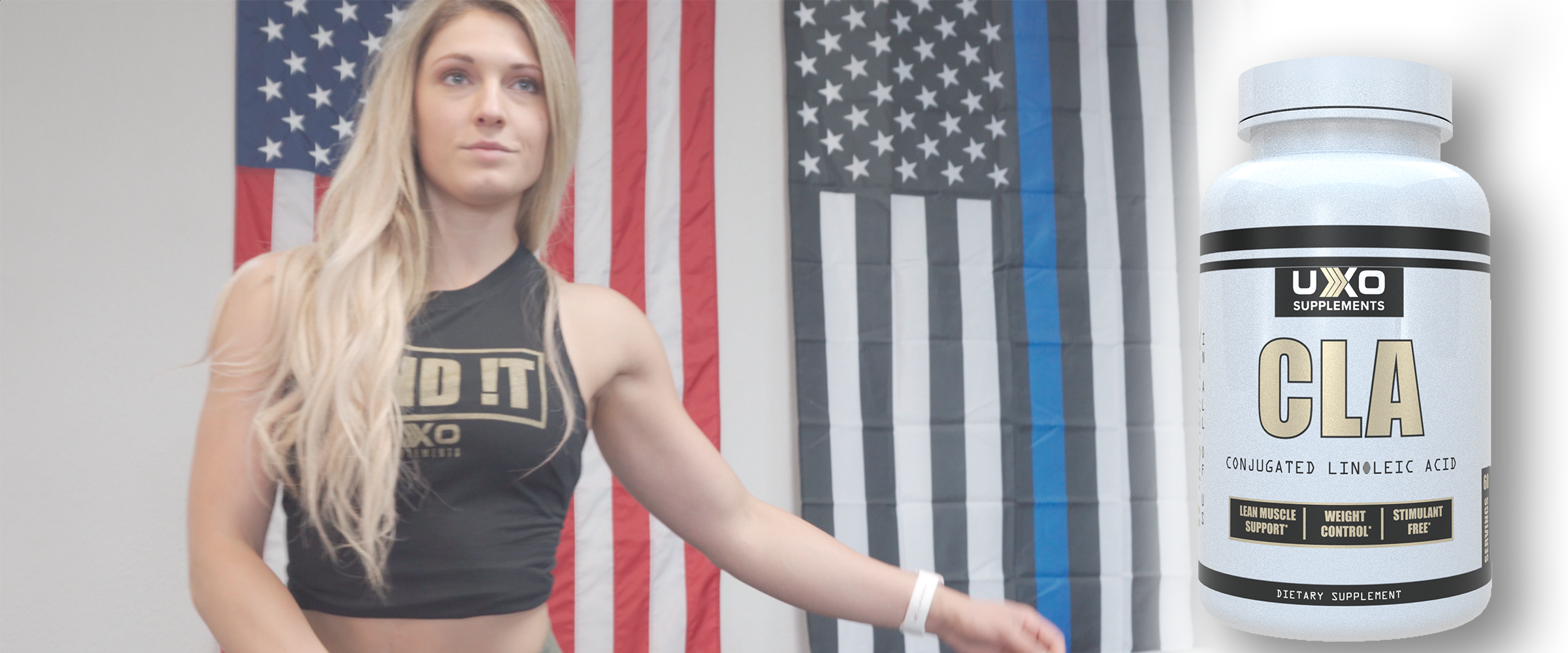 FAT BURNERS GIVE ME THE JITTERS
CLAs are naturally occurring fatty acids found in a lot of food sources such as meat and dairy product. There are no stimulants found inside of them, which is a great benefit for people who are sensitive to stimulants.*
I would recommend taking CLAs twice a day with food. In order to properly space it out, it would be beneficial to take 1 in the morning with breakfast and another in the afternoon with lunch or mid day meal.
I want to maintain my muscle Mass . . .
CLAs can help with that. This formula has been shown to not only help with using your fat cells as energy sources to reduce fat, but also to help preserve that valuable muscle mass you built.
can i stack other products with CLA?
At UXO, we designed all products to stack with one another depending on what your goals are. Looking to lose weight and shred? Stack it with a fat burner and Omega (CLAs will use the additional fatty acids in Omega to transport into fuel). Looking to increase size and strength? Combine it a Pre, Post, and Creatine . . .
** These statements have not been evaluated by the Food and Drug Administration. This product is not intended to diagnose, treat, cure, or prevent any disease.