15020
Creatine
Regular price
$29.99
FREE Shipping over $100
/
INCREASE SIZE & STRENGTH*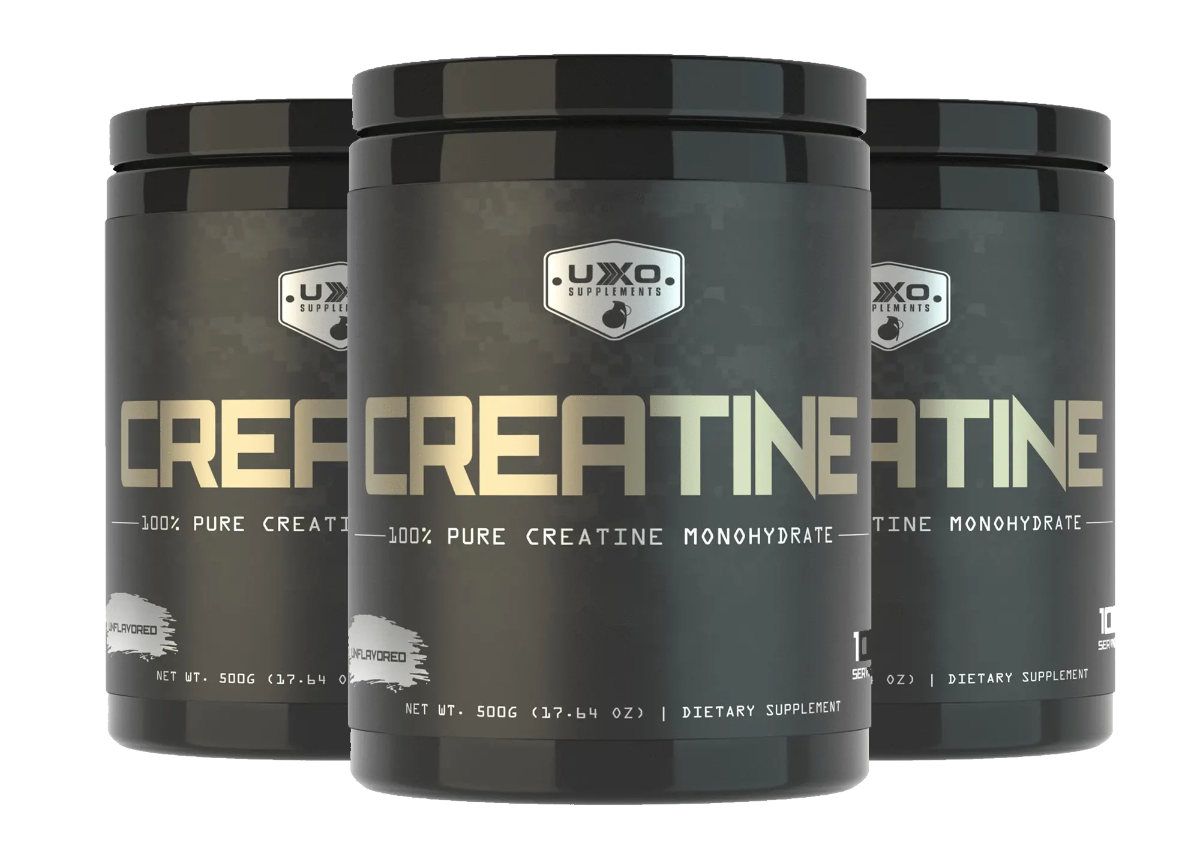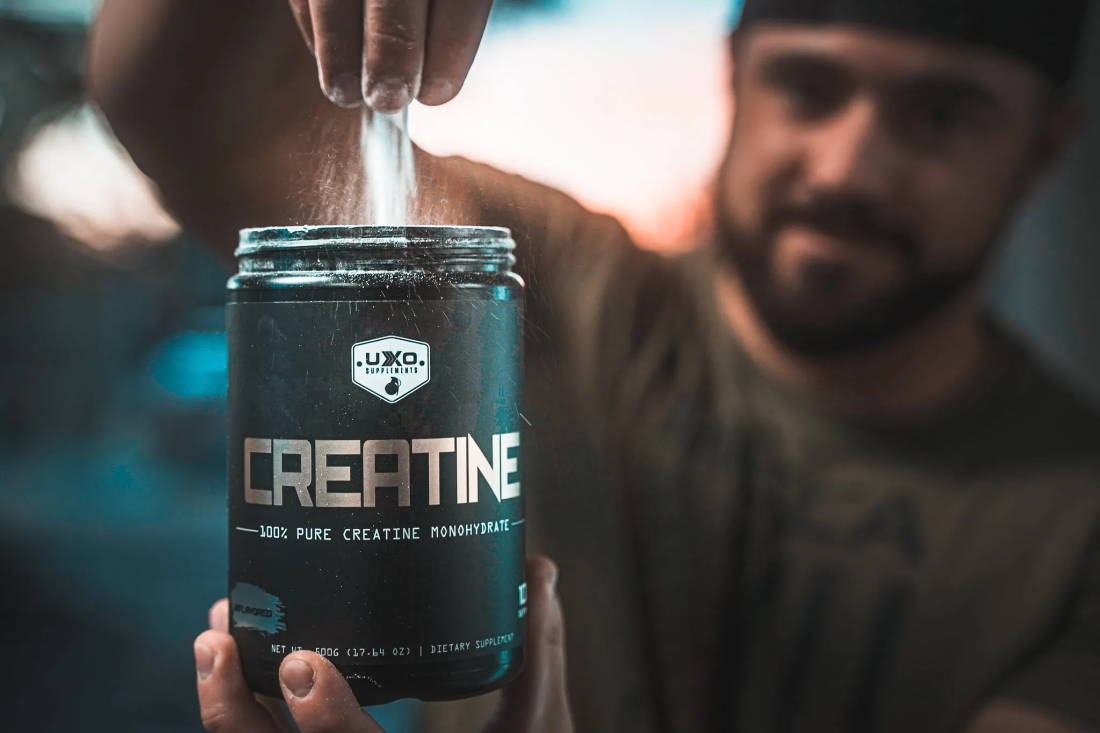 MICRONIZED CREATINE FOR BETTER RESULTS
So what is Creatine? To start, Creatine is produced naturally by our own bodies and found in many of the food products we eat today. It increases protein synthesis which is essential for building lean muscle mass. The more efficient your body is at creating protein synthesis, the faster you can produce muscle tissue. Creatine improves your body's ability to produce Adenosine Triphosphate (ATP), which is a raw source of energy for your body. This allows you to push your muscles to new limits. At the same time, Creatine pulls water from the body into the muscles giving them a fuller look and keeping them hydrated, leading towards improved performance in the gym.*
Creatine is a natural Sports Nutrition ingredient used to boost athletic performance. It is safe and effective to use, backed by an abundant database of research and proven results.*
Helps muscle cells produce more energy by producing more adenosine triphosphate (ATP). During exercise this is broken down to produce energy.*

More ATP is necessary during exercise. As your body begins to deplete ATP your ability to perform at maximum intensity is limited.* Creatine stores your phosphocreatine levels allowing you to create more, performing at a higher level.

Creatine is popular for adding muscle mass*

Creatine has been shown to boost proteins which form to create new muscle fibers.*

Studies have shown supplementing with Creatine increases water content in your muscles. This leads to more volume and increased muscle size.*

Improves high intensity performance.*

Creatine benefits all fitness levels.*

Speeds up muscle growth*

Safe and effective to use.
Suggested use: As a dietary supplement, take one (1) Scoop (5g) with water or other sports nutrition drink.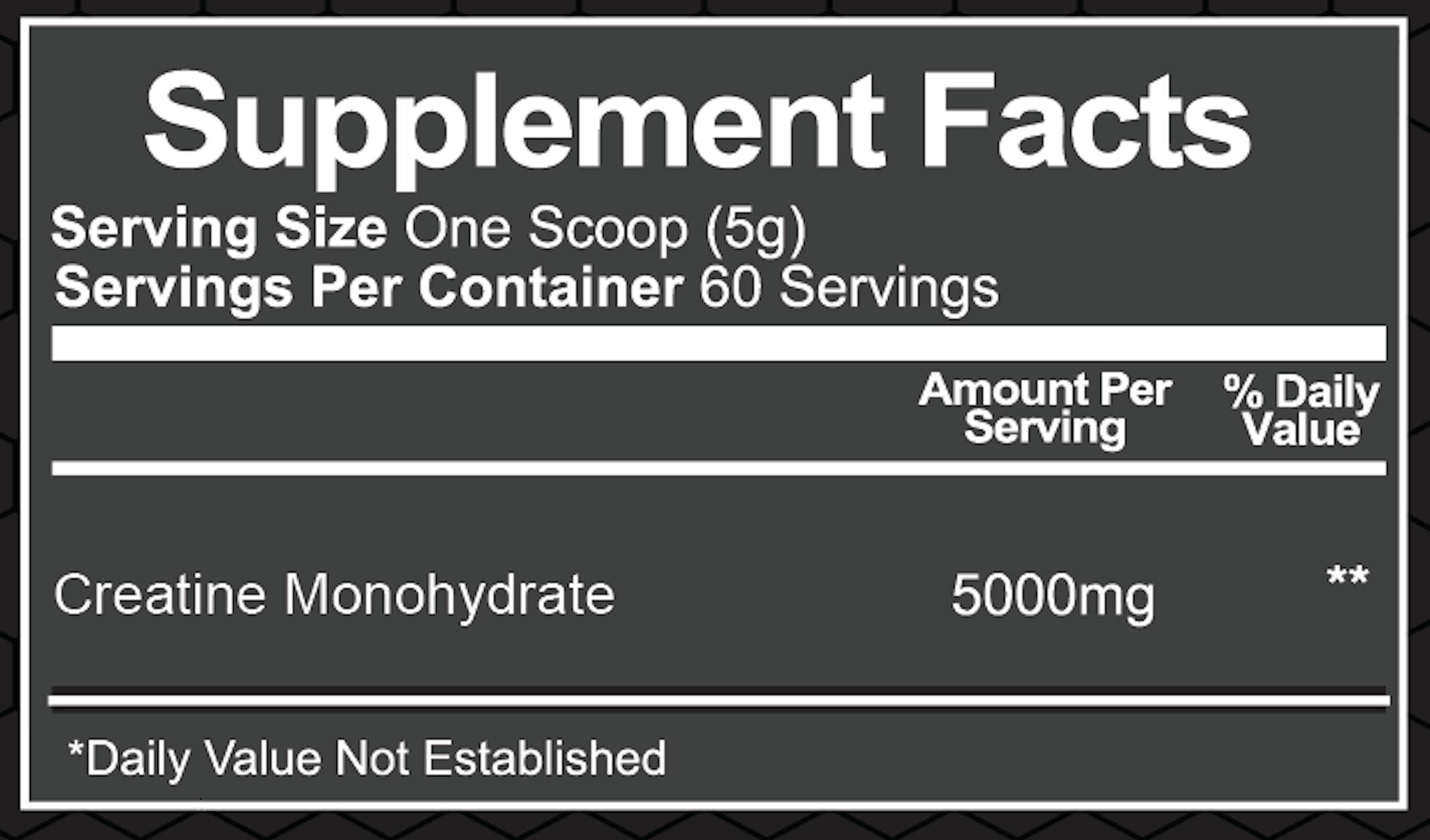 For use by healthy adults only, not recommended for persons under the age of 18. Do not use if you are pregnant or nursing. Individuals should not consume other caffeinated products in conjunction with this product. Seek advice from a healthcare professional before taking if you have any preexisting medical condition to ensure it is safe to take this product. In case of accidental overdose, contact a poison control center immediately. Avoid alcohol and prescription stimulants while taking this product. Exceeding recommended serving will not improve results and may cause serious adverse health effects. Discontinue use and contact a licensed healthcare professional immediately if you experience an unusually rapid heartbeat, dizziness, severe headache, or shortness of breath. KEEP OUT OF THE REACH OF CHILDREN.
100 servings per container at 5g per scoop.
BEST TIME TO TAKE CREATINE? 

IT IS IMPORTANT TO TAKE CREATINE PRIOR TO WORKING OUT FOR ALL THE BENEFITS LISTED ABOVE. CREATINE CREATES MORE ATP FOR YOUR MUSCLES, LEADING TO MORE ENDURANCE AND THE ABILITY TO LIFT MORE WIEGHT.* SOME STUDIES SHOW IT IS MORE IMPORTANT TO TAKE IT POST WORKOUT, FLUSHING NECESSARY NUTRIENTS TO REPLENISH WHAT YOU HAVE DEPLETED DURING THE WORKOUT. EVERYBODY'S BODY WORKS DIFFERENTLY. I ENCOURAGE YOU TO TRY BOTH METHODS TO SEE WHICH DELIVERS OPTIMAL RESULTS.
SHOULD I CYCLE ON CREATINE? 
RESEARCH HAS SHOWN THAT 5-10G IS ALL THAT IS NEEDED PER DAY. HOWEVER, MANY OF THE LEADING NAME BRANDS INCLUDE MUCH LESS THAN THAT AMOUNT IN THEIR PREWORKOUT FORMULAS. SOME ATHLETES PREFER TO CYCLE ON AND OFF CREATINE. BY LOADING, THEY WILL TAKE 20G OR MORE TO SATURATE THEIR MUSCLES GIVING THEM QUICKER ACCESS TO THE ATP, DELIVERING FASTER GAINS. WHEN LOADING, YOU CYCLE A MONTH ON AND THEN CYCLE OFF OF CREATINE (ELIMINATING IT FROM THEIR DIET) FOR ANOTHER MONTH.*
WHY IS IT NOT FOUND IN YOUR PREWORKOUT?

WELL, THERE ARE DIFFERENT WAYS TO TAKE CREATINE, AND WE WANT TO BE ABLE TO MEET THE VARIOUS NEEDS OF ATHLETES TODAY. AS STATED ABOVE, SOME PEOPLE WISH TO TAKE 5G A DAY, WHILE OTHERS WISH TO CYCLE WITH 20G A DAY FOR A MONTH, FOLLOWED BY A PERIOD OF NOT USING ANY. KEEPING A CREATINE FREE PREWORKOUT ALLOWS YOU TO STACK THE INGREDIENT AS YOU WISH.
ARE THERE ANY NEGATIVE SIDE EFFECTS?
WHILE CREATINE MONOHYDRATE IS ONE OF THE MOST RESEARCHED INGREDIENTS OUT THERE, YOU STILL NEED TO BE CAUTIOUS. CREATINE PULLS WATER INTO THE MUSCLES AND IS VALUABLE FOR INCREASING STRENGTH AND SIZE. BECAUSE OF THIS, IT IS IMPORTANT THAT YOU CONTINUE TO DRINK WATER DURING YOUR WORKOUT AND AFTER. IF NOT, YOU COULD EASILY BECOME DEHYDRATED WHICH COULD LEAD TO MEDICAL PROBLEMS.*
*These statements have not been evaluated by the Food & Drug Administration. This product is not intended to diagnose, treat, cure, or prevent any disease.
Sources
J Int Soc Sports Nutr

. 2007; 4: 6.
Published online 2007 Aug 30.
doi: 10.1186/1550-2783-4-6
Kreider RB. Effects of creatine supplementation on performance and training adaptations. Mol Cell Biochem. 2003;244(1-2):89‐94.
Devries MC, Phillips SM. Creatine supplementation during resistance training in older adults-a meta-analysis. Med Sci Sports Exerc. 2014;46(6):1194‐1203. doi:10.1249/MSS.0000000000000220
Benzi G, Ceci A. Creatine as nutritional supplementation and medicinal product. J Sports Med Phys Fitness. 2001;41(1):1‐10.
Tarnopolsky MA, Beal MF. Potential for creatine and other therapies targeting cellular energy dysfunction in neurological disorders. Ann Neurol. 2001;49(5):561‐574.
Balsom PD, Söderlund K, Sjödin B, Ekblom B. Skeletal muscle metabolism during short duration high-intensity exercise: influence of creatine supplementation. Acta Physiol Scand. 1995;154(3):303‐310. doi:10.1111/j.1748-1716.1995.tb09914.x
Bird S. P. (2003). Creatine supplementation and exercise performance: a brief review. Journal of sports science & medicine, 2(4), 123–132.
Deldicque L, Theisen D, Bertrand L, Hespel P, Hue L, Francaux M. Creatine enhances differentiation of myogenic C2C12 cells by activating both p38 and Akt/PKB pathways. Am J Physiol Cell Physiol. 2007;293(4):C1263‐C1271. doi:10.1152/ajpcell.00162.2007
Powers, M. E., Arnold, B. L., Weltman, A. L., Perrin, D. H., Mistry, D., Kahler, D. M., Kraemer, W., & Volek, J. (2003). Creatine Supplementation Increases Total Body Water Without Altering Fluid Distribution. Journal of athletic training, 38(1), 44–50.
Becque MD, Lochmann JD, Melrose DR. Effects of oral creatine supplementation on muscular strength and body composition. Med Sci Sports Exerc. 2000;32(3):654‐658. doi:10.1097/00005768-200003000-00016
Jones AM, Atter T, Georg KP. Oral creatine supplementation improves multiple sprint performance in elite ice-hockey players. J Sports Med Phys Fitness. 1999;39(3):189‐196.